Outsourced green cleaning services are the perfect solution to address the challenges of management overhead and customer satisfaction for auto dealerships.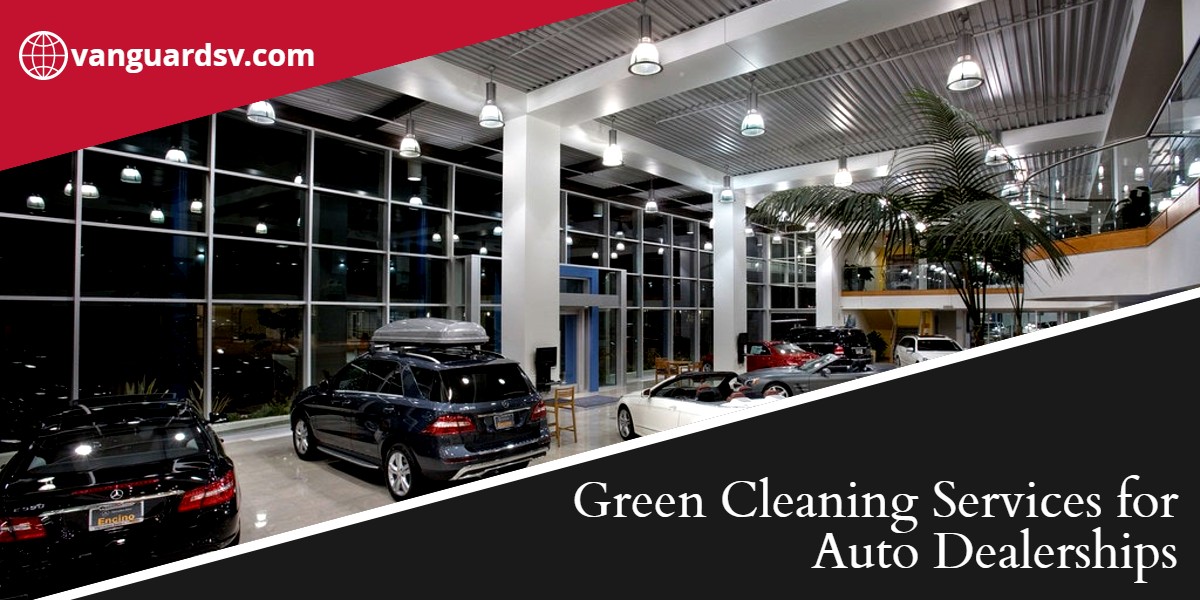 Green Cleaning Services Improve Auto Dealership Profits and Customer Satisfaction
Investing in high-quality green cleaning services and facilities maintenance is a low-cost, high-return investment that addresses two core challenges facing auto dealerships:
Customer and occupant/employee satisfaction, and;
The reduction of management overhead.
The three primary areas of concern are:
Restroom facilities.
Customer waiting areas, and;
The showroom.
Restrooms
The appearance, condition, and provisioning of your organization's bathroom, either public, private, or shared, has a tremendous impact on your profits.
Messy, smelly bathrooms repel repeat business, and lead to negative online reviews, discouraging prospective customers.
According to PMQ Pizza Magazine;
More than half of U.S. adults believe that an unclean restroom at any type of business is an indication of how the business is run or how it treats its customers.

Consequently, 56% say that if they encounter an unclean or unpleasant restroom, they will not return to that business or will think twice about doing so.

Others will complain to management, tell a friend, or leave right away without completing their business.
Conversely;
[...] 70% of Americans say they have made a conscious effort to select a specific business because it has cleaner, more well-maintained restrooms.

Grossed Out: Restaurant Patrons Think Dirty Restrooms Signify Dirty Kitchens
Shared and private restrooms are also an important factor in business profits due to the adverse health and performance impact that accompanies the transfer of germs commonly found in bathrooms, and is often compounded by poor hand hygiene.
See Also:
Modernizing your restroom facilities with IoT monitored soap, toilet paper, and paper towels, as well as touchless sinks, toilets, and dispensers will also produce a positive financial return by eliminating direct contact with contaminated fixtures, and the profit-affecting illness that follows, as well as adding to customer comfort in returning to your organization for repeat business.
See Also:
Waiting Areas
Depending on the amenities, there are several aspects of a customer waiting area that can negatively impact customer and occupant health, and be covered with dirt, allergens, and germs, specifically:
Coffee pots.
Countertops.
Vending machine buttons.
Water fountain buttons.
TVs.
The armrest on chairs and couches, and;
The flooring
Dirty customer waiting areas, especially ones that allow food and drinks, given the average persons hand washing practices, represent a severe public health risk, as germs are most commonly transferred from a contaminated surface (nearly all of the surfaces listed have been tested positive for germ levels well in excess of an average office toilet seat) to a person's hand, then to their mouth where it is absorbed by the body.
See Also:
Depending on the type of flooring and the availability of walkway mats, the floor could contain a wide range of germs, bacteria, and allergy-causing particles--essentially anything that has adhered to an occupants shoes as they went about their day.
See Also:
Showroom
From the perspective of presentation, a car showroom is one of the most important areas for an auto dealership.
This area reflects the need for ongoing, high-quality floor care, dusting (especially the lighting), and windows cleaning.
The addition of custom matting can also contribute to the 'curb appeal' of the showroom, while adding additional layers of safety and health protection, by preventing slip and fall hazards, while removing dirt and other particles from the bottom of shoes before they are tracked into customer waiting areas.
Green Cleaning Tips
Given the likely presence of an auto repair shop, it is highly recommended that your dealership switch to non-toxic green cleaning products to eliminate customer and worker exposure to a combination of toxic oils, greases, and solvents in the shop, as well as bleach, carpet shampoo, window cleaner, and floor polish in the office.
Switching to microfiber, two-bucket cleaning, and chemical management systems will also contribute to positive revenue by eliminating water, gas, and electric utility waste.
Disinfecting high-contact, non-porous surfaces should be competed daily, preferably with an EPA Category IV disinfectant.
Invest in quality products, especially for the restroom, to leave a lasting positive visitor impression.
Takeaway
Maintaining a high standard of cleanliness in your auto dealerships restrooms, waiting areas, and showrooms are mandatory for a successful enterprise.
Dirty facilities have a negative impact on employee health and safety and create a poor customer impression, likely leading to a loss of repeat business and future recommendations.
Outsourcing the cleaning requirements to a third party who is committed to high-quality service and easy communication eliminates unnecessary overhead, likely contributing to low job satisfaction, and frees up managers for business-focused duties.
If you would like to learn more about the advantages of certified green cleaning services to address the challenges of management overhead while improving customer satisfaction, contact us today for a free quote!
In Bakersfield CA, call (661) 437-3253
In Fresno CA, call (559) 206-1059
In Valencia CA, or Santa Clarita CA, call (661) 437-3253