Green cleaning services are the ideal solution to prevent healthcare-associated infections derived from hospital floors.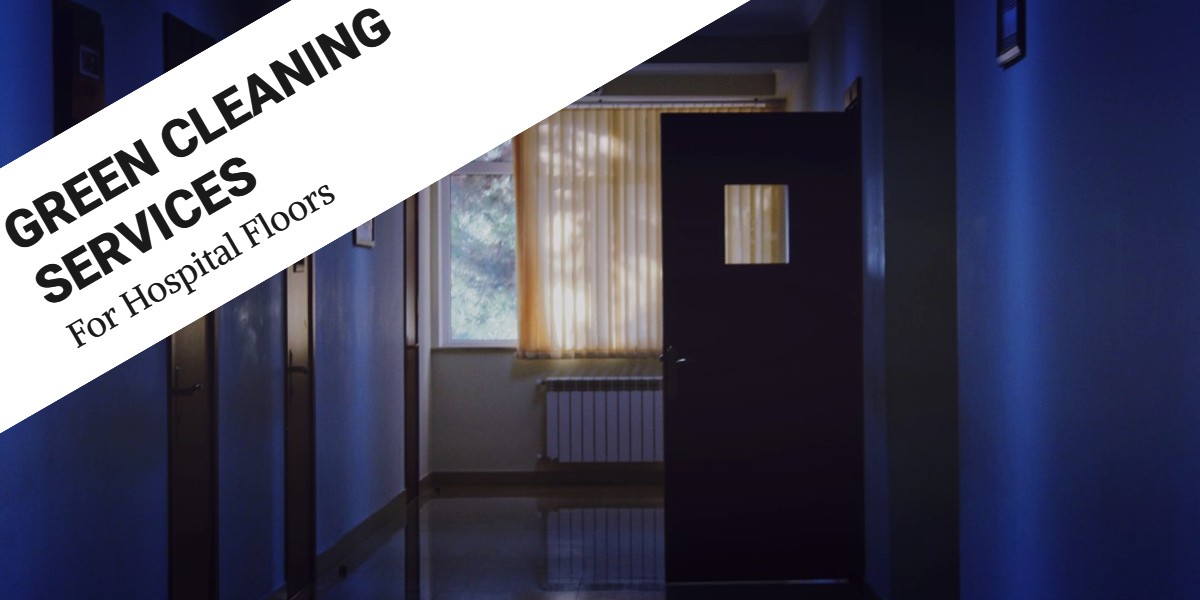 Green Cleaning Services to Prevent Healthcare-Associated Infections From Hosptial Floors
In the past, research that delved into the role hospital floors plays in the transfer of germs and HAI had concluded that the risk of infection was relatively small.
However, a 2016 study observing the spread of noninfectious markers discovered that the spread of germs from the floor to hands and high-contact surfaces, as well as other rooms, occurred quickly and at alarming levels.
Analysis of 318 floor samples revealed floor contamination was common in both room types.

CDI [Clostridium difficile] was found most frequently, but MRSA [Methicillin Resistant Staphylococcus Aureus] and VRE [Vancomycin-Resistant Enterococci] were found significantly more often from floors in CDI isolation rooms than the non-CDI isolation rooms.

The contamination was similar at all of the study sites in both bathroom and bed locations.

Rooms cultured following occupancy and cleaning had statistically significantly less contamination with MRSA and VRE (but CDI prevalence was not significantly different from a statistical perspective).

Of the randomly occupied rooms observed by researchers, there were between one and four high-touch objects (such as clothes, cell phone chargers, call buttons, blood pressure cuffs, bed linens, towels, etc.) in contact with the floor in 41 of 100 rooms.

Culture analysis of the researchers' hands associated with contact of these high-touch objects found recovery of MRSA in six of the 31 cultures, VRE in two and CDI in one.
The overuse of bleach and other toxic cleaning and disinfection products is also problematic.
Passive exposure to cleaning bleach in the home may have adverse effects on school-age children's health by increasing the risk of respiratory and other infections.

The high frequency of use of disinfecting irritant cleaning products may be of public health concern, also when exposure occurs during childhood.

Domestic use of bleach and infections in children: a multicentre cross-sectional study
Keep in mind that the use of bleach in hospitals is not passive, and the concentration of sodium hypochlorite is higher than consumer-grade alternatives.
Category IV Green Cleaning Products
The U.S. Environmental Protection Agency currently classifies two green disinfectants as Category IV (Relatively non-toxic), as opposed to bleach, which is listed as Category I (Highly toxic).
Despite the differences in health and safety, both disinfection categories have several positive factors in common.
All surfaces must be precleaned before disinfectant use.
Both are effective against a broad spectrum of microbes including H1N1 (Swine Flu), Tuberculosis (TB), and Methicillin-Resistant Staphylococcus Aureus (MRSA), and;
Each category has a, roughly, 10 minute dwell time.
The health and safety issues of ongoing bleach use aside, there are several instances where its use is necessary, specifically to disinfection for Hepatitis-B (HBV) and Human Immunodeficiency Virus (HIV).
Botanicals
Botanicals are a Category IV Intermediate Level Disinfectant, which means it is essentially non-toxic, tuberculocidal, but, like bleach, does not kill bacterial spores.
Botanical disinfectants are separated from bleach disinfectants in several ways.
Botanicals have a much longer approved shelf life--two years as opposed to bleach's three months.
No warning or first aid statements are required on the material safety data sheet.
Unlike bleach, the use of botanicals does not require special protective gear, only natural ventilation, though the botanicals can emit a strong odor.
Botanicals provide 24-hour residual protection after application, and;
Unlike bleach, botanicals are non-corrosive, so do not require a post-application rinse.
Silver Dihydrogen Citrate
Silver Dihydrogen Citrate is also a Category IV disinfectant, though it is classified as low-level, which means that it kills most vegetative bacteria except M. tuberculosis, some fungi, and inactivates some viruses, and is separated from botanicals and bleach in several distinct areas.
The disinfectant consists of a combination of citric acid and a minute amount of silver ions.
Is stable in storage, and has no expiration date.
Like botanicals, no warning or emergency labels are required, though the level of consumption needed to be considered hazardous would require drinking several quarts of the disinfectant, and;
It is the only EPA disinfectant listed on the Grassroots Environmental Education's ChildSafe Products List.
Green Cleaning Tips
The occurrence of HAI as a result of the hospital environment is an appalling 1 in 5.
According to the Association for the Advancement of Medical Instrumentation (AAMI);
Overall, research has showed that the healthcare environment, which includes floors and medical devices, contributes to approximately 20% of the more than 700,000 cases of HAIs that occur each year.

Study Suggests Hospital Floors Are 'Reservoir' for Pathogens, with Devices Playing Transmission Role
Category IV disinfectants are not suitable for the cleanup of HBV or HIV.
Regardless of the lack of toxicity, always wear the proper safety equipment, and allow for maximum space ventilation, especially with the use of botanicals.
Always clean up and remove all fluid, oil, and dirt before disinfecting.
Use color-coded microfiber and the two-bucket method to avoid cross-contamination while cleaning.
Category IV disinfectants do not require an additional rinse stage, so the spray can be applied as the custodial staff exists the space.
References & Resources
Takeaway
Dirty hospital floors lead to the buildup of dangerous germs and bacteria that can quickly spread to hands and high-contact surfaces, presenting life-threatening conditions for surgical patients, as well as those with compromised immune systems, especially children and the elderly
Though the use of bleach is required for the disinfection of HBV and HIV, the toxicity of bleach and quat disinfectants contribute pollutants to the indoor air and water supply.
As such, their use should be regulated to avoid unnecessarily adding toxic conditions to the environment.
Category IV certified green disinfectants have proven to be just as effective against MRSA and other germs and bacteria commonly associated with HAI.
If you would like to learn more about the advantages of certified green cleaning services to prevent healthcare-associated infections from hospital floors contact us today for a free quote!
In Bakersfield CA, call (661) 437-3253
In Fresno CA, call (559) 206-1059
In Valencia CA, or Santa Clarita CA, call (661) 437-3253