Professional cleaning services tips and do it yourself carpet cleaning hacks to keep your office healthy, and looking great.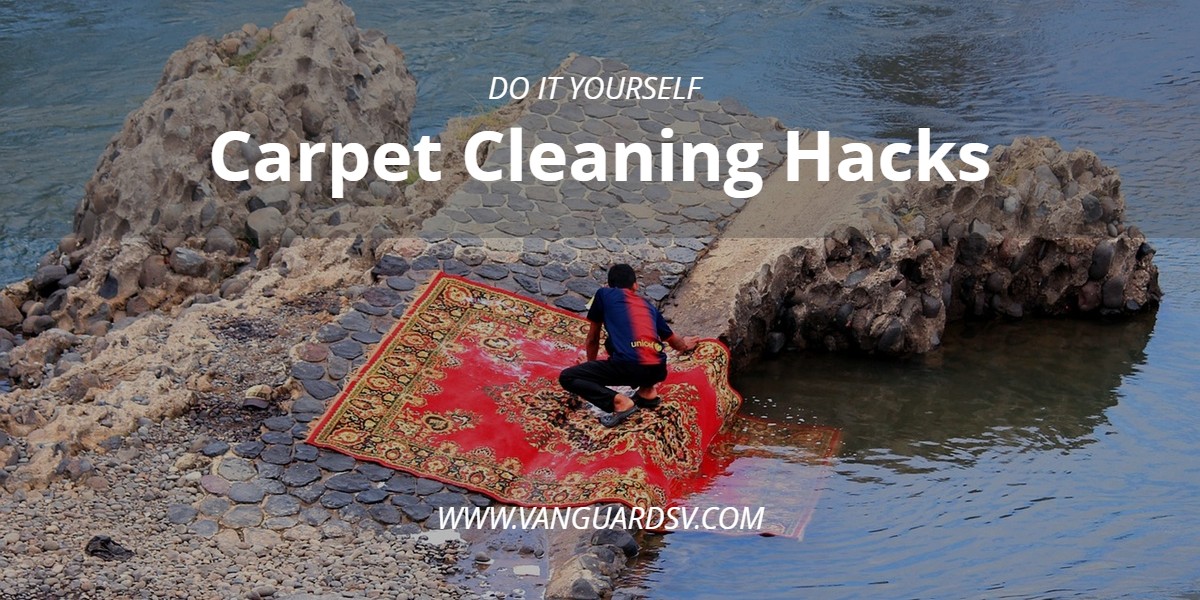 Do It Yourself Carpet Cleaning Services Hacks and Tips
Home office and small business carpet cleaning services often seem more expensive than they are worth to managers and owners, but the service provides a necessary aspect to the air quality and overall health of your office.
Waiting until stains are dark and proliferate the carpet or rugs is never a good idea.
Carpets filter out far too much dust to be ignored for that long, and regular, professional treatment should be scheduled.
For those of you look for ways to stretch your budget out as much as possible, here are some green, do it yourself tips.
Green Carpet Cleaning Tips
The first thing you'll want to do is gather up all the tools and supplies that you will need.
To save time, mix the green carpet cleaning solution first.
Keep a few things before proceeding:
Though this is a DIY project, you're going to need some specialty, though essential, equipment.
The higher the quality of product you use, the better the results you will have, and the longer your efforts will pay off.
The DIY process should not be viewed as a long-term substitute for professional carpet cleaning services.
Homemade Green Carpet Cleaning Recipe
¾ cup of Hydrogen Peroxide.
¼ cup of white vinegar.
Two tablespoons dish soap.
Five drops of essential oils.

Alexandria Brighton Collection of Essential Oils - Healthy Home Care Blends

Two tablespoons of fabric softener, and;
One gallon of hot water.
For More Information:
HEPA Filtered Vacuum
After mixing the cleaning solution, vacuum the carpet or rug with a HEPA filtered vacuum cleaner.
Vacuuming first ensures excess dirt and other material does not clog up the extractor.
HEPA filtration ensures that dirt and bacteria are not released into the air.
If you have the budget and are in the market for a high-quality, green certified vacuum cleaner, check out the Green Carpet Institute's list:
Certified Green Dirt Extractors
Certified green dirt extractors are vastly superior to contemporary, consumer-grade floor shampooers.
Dirt extractors allow the carpet to dry faster, allowing for faster re-entry after cleaning.
High-end commercial models are certified by the Green Carpet Institute and the Space Foundation.
These types of appliances are typically not in the household budget of most 'do-it-yourselfers', but it does go to show the significant differences between commercial and consumer quality.
For our purposes, a dirt extractor, rented from your local hardware store, will suffice.
Tips for Tough Stains
A simple, do it yourself hack for removing tough stains is to dampen a white cotton t-shirt, place it over the stained area, and carefully iron it.
The shirt protects the carpet fibers from the iron's heat, while the steam from the dampened shirt loosens up attached dirt.
The shirt will absorb a significant amount of the stain.
Once it dries, go over it with the vacuum, and repeat as necessary.
For additional tips and tricks, check out these Pinterest boards:
Takeaway
Maintaining a clean carpet is key to the maintenance of a clean and healthy home and office.
Monthly maintenance intervals are recommended for high traffic areas but may be out of the budget for homeowners and small businesses.
To mitigate the cost of professional carpet cleaning services, test out our do it yourself hacks and let us know what you think.
If you would like to learn more about the benefits of professional cleaning services for your business, contact us today for a free quote!
In Bakersfield CA, call 661-395-3009
In Fresno CA, call 559-473-1790